GUEST PROGRAM
The Guest Program is under development. We expect to offer three daytime activities in the London area. Registered Guests are invited to attend these Program Activities:
Sunday, 7 May 2017
Welcome and Orientation at Brown's Hotel
Friday, 12 May 2017
Private Tour, Reception and Gala Dinner at House of Lords

Guest Program Details
Monday, May 8, 2017

Guests are invited to join the participants for the Welcome Remarks by The Right Honourable Lord Chief Justice of England and Wales, The Lord Thomas of Cwmgiedd, at the Royal Courts of Justice. Groups depart Brown's Hotel to be seated in historic Courtroom One for the ceremonial opening of A Week in Legal London. The opening remarks are brief and will conclude by 10:15 am.
For those guests who wish to attend the Opening Remarks, please understand that business attire is required. At the conclusion of the remarks, guests will be transferred to the guest program activity, already underway as noted below.
Due to increased numbers in our guest delegation this year, we are offering two options for Monday and Wednesday. Because each of our activities are highly customized, we have limited numbers who can attend and therefore, the selection process will be determined by the date at which we received your registration.
Monday Option One – Let's Make Macarons!
Monday Option Two – Let's Make Chocolate Truffles!
Let's Make Macarons!
10:00 am to 3:00 pm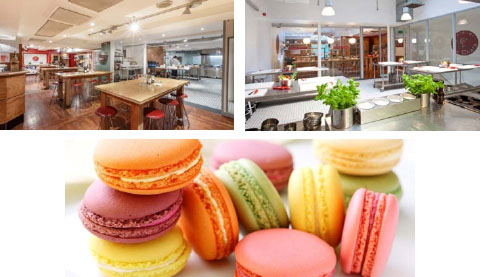 Ahh, the mighty Macaron. They have thwarted many a confectionaire, but no more. We have designed a class that will teach you how to make these delicate confections, achieving perfect results every time. Their pretty colors and endless selection of fillings mean they not only look great, but will taste delicious too.

As well as learning how to master those tricky macaron shells, you'll also learn to create four decadent fillings. We will guide you through the mixing, drying and baking of the shells, talking through potential pitfalls you might experience at each stage. The specific fillings you'll make will vary from class to class including buttercreams, ganache's, crème patisserie and caramels.

Once you've created, filled and assembled your lovely macarons, they are ready to be tasted and judged by our panel of experts. As we wait for the judging to take place, a light lunch with wine will be served in the production kitchen.

You'll have plenty of macarons left to take home and share, armed with the expert knowledge you need to make perfect macarons at home. We'll provide you the recipes you created and provide you with a macaron fact sheet to take with you. You'll be armed with the knowledge to recreate them at home as well as the confidence to experiment with new flavors and fillings.
Let's Make Chocolate Truffles!
10:45 am to 2:00 pm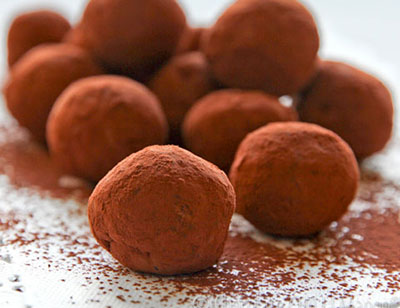 Described as "the most delicious bonding experience possible" this workshop places the focus on bringing out your creative spirit through an indulgently calorific journey, after which everyone leaves laden with their own chocolate creations.

Kicking off with a quick (and tasty) history lesson, Master Chocolatiers will guide you through the magical legends of chocolate, with the chance to sample plenty of exotic tasters along the way. With a bean-to-bar discovery and chocolate connoisseur tasting session, you'll then be sampling raw cocoa nibs, 100% pure chocolate and special secret ingredients, for developing your discerning palate.

Diving into the your creative side, you'll start off making a personalised giant chocolate button using professional dipping forks to create marbled effects.

After demonstrations from the Master Chocolatiers, you'll then be ready for fresh-cream truffle making and a healthy bit of competition. You'll be dipping and decorating your way to swish creations using dark chocolate ganache, milk chocolate fudge, bowls of melted chocolate and decorations including white chocolate flakes, caramelised hazelnuts and strawberry curls.

Prizes will be awarded throughout for the most innovative design and for general creative genius! Every team member will also leave with the chocolate making experience with their very own handmade creations (including the giant button and at least 15+ handmade chocolates), perfectly packaged to take with you.
Tuesday, May 9, 2017

Springtime in Paris
7:00 am to 6:30 pm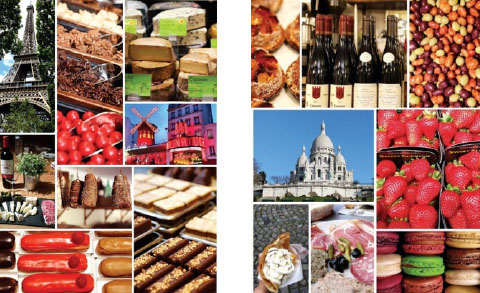 What could be better than spending a springtime day in Paris, a timeless city that captivates new and returning visitors alike. 

Both groups will require departing the hotel at 6:00 am to catch the 7:01am Eurostar train from London St. Pancras to Paris Gare du Nord. We arrive at 10:00 am (one-hour time difference and two-hour train ride) and begin our adventure immediately. 

Choosing between two experiences, each guest will enjoy the custom day in Paris. Join Diane Valrange, in Group 1, a Parisian native and dear friend on a full-day shopping, dining and exploring specialty shops. This is not a tourist monument tour of Paris, but an insider's look at interesting local places to visit. We will begin the day at Maison Collet boulangerie,
where you will get an in-depth look into the art of
bread making from a family-owned bakery. 

Lined with restaurants, cafés, bakeries, charcuterie stores, cheese shops, wine shops, produce stands, specialty houseware stores and flower shops, Rue Montorgueil is a place for Parisians to socialize while doing their daily shopping. At the southernmost tip of Rue Montorgueil is SaintEustache Church, and Les Halles, containing the largest indoor shopping mall in central Paris; and to the north is the area known as the Grand Boulevards. One of our visits will include a trip to the oldest bakery in Paris, La Maison Stohrer, which opened its doors in 1730. 

One of my favorite places to shop is Mora. Known around the world since 1814 for the best housewares and cooking equipment, Mora has more kitchen tools and bespoke items for the culinarian in all of us to get excited about. 

When we move to Galerie Vivienne our experience blends boutique and specialty stores featuring jewelry, fashion, shoes, handbags, books, wine, tea, chocolates, glasses, art and handmade bespoke items. 

Group Two's activities have been designed for first time visitors to Paris and a journey of culinary excellence. In Saint Germain des Pres, the group will participate in a gastronomic walking tour where they will get to taste all of the fine delicacies that Paris has to offer. From macarons to olive oil and tapenades, the group will get to experience France through their palette and may even get to take some of it home with them. 

The tour will be given by a native Parisian, who will be with us from beginning to end, willing and eager to answer all questions, give insights to the monuments and indulge in the flavors of Paris. 

Following the morning tasting tour, the guests in group two will enjoy the house specialty at Atelier Maitre Albert for lunch. Nestled in the Latin Quarter along the Left Bank of the Seine, the restaurant is a change of pace in the cozy neighborhood. Famed French restauranteur Guy Savoy has created a casual spot with contemporary style and rustic rotisserie food. 

Following the meal, the guests will return to their bus and continue on their scenic view of Paris, complete with photo stops at three of the most famous landmarks in the city: The iffel Tower, the Arc de Triomphe and Notre Dame. The tour will provide an orientation to the City of Light and a bit of time to wander around the famous sites of Paris. 

Both groups will return to Gare du Nord in time for the 5:01 train to London. We will arrive back to London at 6:32 pm with plenty of time to spare for your evening plans.
Wednesday, May 10, 2017
Wednesday Option One - The Perfume Studio and Tea at Fortnum & Mason
Wednesday Option Two - The Falconer Experience and Lunch
The Perfume Studio and Tea at Fortnum & Mason
10:00 am to 1:00 pm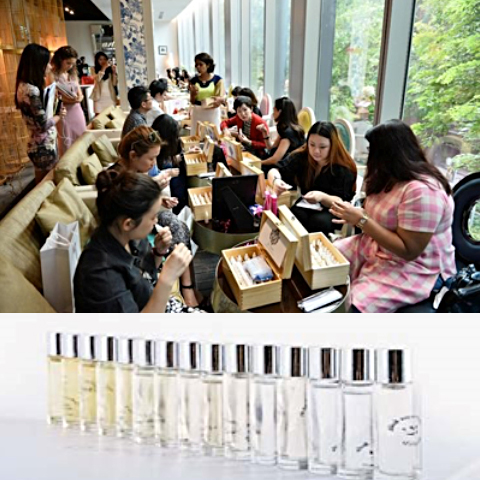 The Perfume Studio is a unique concept, something truly new and different. They specialize in helping create a unique fragrance that captures your essence and gives you a perfume to wear and cherish.

The idea is simple: if celebrities can create their own fragrance, then why can't you? At The Perfume Studio experience, a trained perfume stylist guides you through an enjoying, relaxing and educational fragrance journey to help you combine any number of our 21 exquisite blends and arrive at a fragrance you love.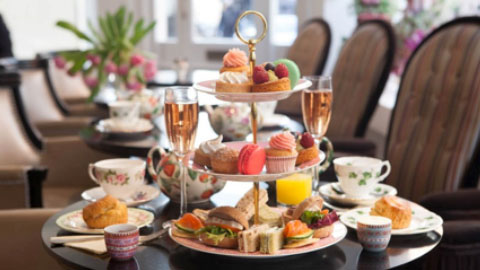 Our Master Perfumer, Francois Robert, has spent decades developing his knowledge working with some of the most famous fragrance houses in the world and he has now curated our exquisite range of 21 blends sourced from the world's finest ingredients. From base musky notes to fruity top notes, our fine fragrance blends represent the entire spectrum of human emotion. They pride themselves on the excellence of their knowledge and the passion and precision put in to every perfume that is created.

You will be taught to identify and appreciate the different styles of notes and accords which make up a Perfumers palette. Some describe our selection as the primary colors of perfume thus allowing you to combine to create billions of combinations and any fragrance you can imagine!

Your perfume formulation will be registered in our Perfume library and will receive a Certificate with details of your fragrance allowing you to order more, as often as you'd like!

After our perfume experience, we will continue to delve into an experience of the senses and enjoy a traditional afternoon tea. Tantalize your taste buds while we take our tea amongst the locals and enjoy savory finger sandwiches, scones and bespoke teas to round out the perfect afternoon.
Later that evening, guests are invited to join the delegate participants to dinner at Inner Temple Hall followed by a Moot Trial performance with both US and UK program participants.
The Falconer Experience
9:00 am to 6:00 pm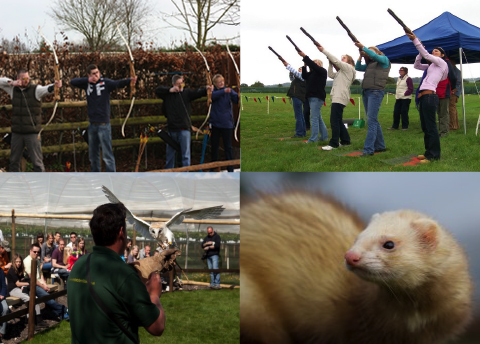 Located in the Oxfordshire countryside, a unique and very special experience awaits. Guests will be transferred by either a small couch or train about an hour outside London to a private estate known for breeding and training birds of prey. Throughout this activity, the emphasis will be "hands-on" and will give you a chance to fly as many different species of raptors and learn all about how they are adapted for their lives in the wild. Your session could include flying hawks, falcons, eagles, owls, vultures, buzzards and more.

In addition to the falconry experience, we have also arranged for an archery demonstration, ferret racing and laser clay shooting as noted below. A two-course lunch with wine will be served between activities.

FALCONRY
The golden chance to put on the glove and have ago at the sport of kings with a selection of birds of prey flying to and from you under expert guidance of a falconer, not only will you be very hands on but you will also have the opportunity to learn about their lives in the wild.

ARCHERY
Once a way of providing food for the table, then a tool of war and now a sporting pastime shared by millions all over the world, archery is the pursuit of perfection finding that one good shot and repeating it again and again. We not only guide you through shooting at a range of targets but offer a history lesson with our extensive collection of bows from around the world. Ever wanted to fire a cross bow? Now's your chance.

FERRET RACING
Ferrets are the 3rd most popular pet in the world and we bring you the ferret racing cham-pionship. We plan to divide you into smaller groups to personally choose your ferret. You will then enter your ferret into various races where the ferret has to do something different each race. From pushing a ball to the finish line to drinking milk quicker that the other ferrets.

LASER CLAY SHOOTING
A high-tech take on the traditional format, laser clay pigeon shooting is a challenging, rewarding and exhilarating experience! If you're looking for competitive team building activities, this popular event will hit the mark. Teams compete to hit as many flying clays as possible and put their marksmanship skills to the test.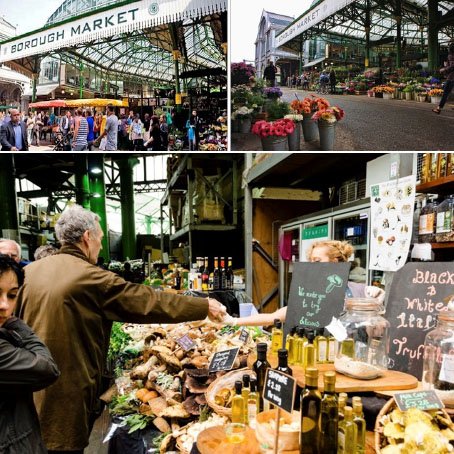 Thursday, May 11, 2017

No guest activities are planned for Thursday morning. Our guest activity leader will be inviting guests who wish to join him for an impromptu visit to Borough Market in Southwark.
Friday, May 12, 2017

No guest activities are planned for Friday morning or afternoon in anticipation of the Reception and Gala Dinner at the iconic Palace of Westminster in the House of Lords Peers Dining Room
Guest Program activities are subject to change.